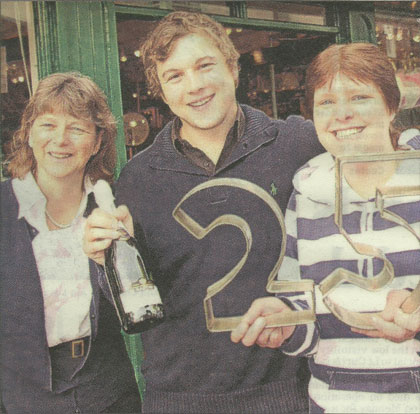 Debbie and Robert Bevan created the concept of Protec in 1983, when Robert, a self-employed electrician, had the idea that security systems were the way forward. Robert sought advice from the local crime prevention officer to see what was required to become a security installer. At this time locks were the most important aspect of security, which then led on to intruder alarm systems and as we move forward into the future CCTV. At this stage the Protec business was based in a house in Wells. It was not until the beginning of 1984 that Robert and Debbie opened the small electrical shop at 20 Queen Street. This gave them a retail front for both their electrical and security business'. The business grew through the mid part of the 80's and Protec became a well established company in the security market.
In 1986 Robert and Debbie were looking to the future and decided to purchase the already established Corner Cookshop that adjoined their existing Electrical Shop in Queen Street. Debbie and Robert felt that the two business' would compliment each other, "a his and hers type of situation" said Debbie. After running the two shops happily side by side for several years the opportunity arose in mid 1992 to purchase the freehold premises at 16 Queen Street and they decided that a traditional gift shop would yet again compliment the business' but most importantly the whole street. At the end of 1992 the gift shop known as Inspiration was opened.
Behind the scenes Robert and Debbie had plans that in the end took two years to come to fruition. Eventually the gutting and rebuilding of 16 Queen Street commenced in 1995; so that the existing three business' could be relocated to the one soon to be much larger property. Whilst all the major construction work was being carried out, it was business as usual for the three shops, but eventually the work demanded that the gift shop would have to close for a short period of time.
Finally, on the 1st of October 1996, all the effort and extra hours of work proved worthwhile when all three shops and the security installation team amalgamated under one roof . Protec at 16 Queen Street was opened with a grand launch day followed by a private party in the evening for everyone involved with the renovations, including staff, family, and friends which was held in the shop! Debbie and Robert to this day have never looked back following the success of the new shop which is a shop for everybody to enjoy.